Sabrina Carpenter is back to blonde!
2 color changes in less than 2 months by celebrity hairstylist Laurie Heaps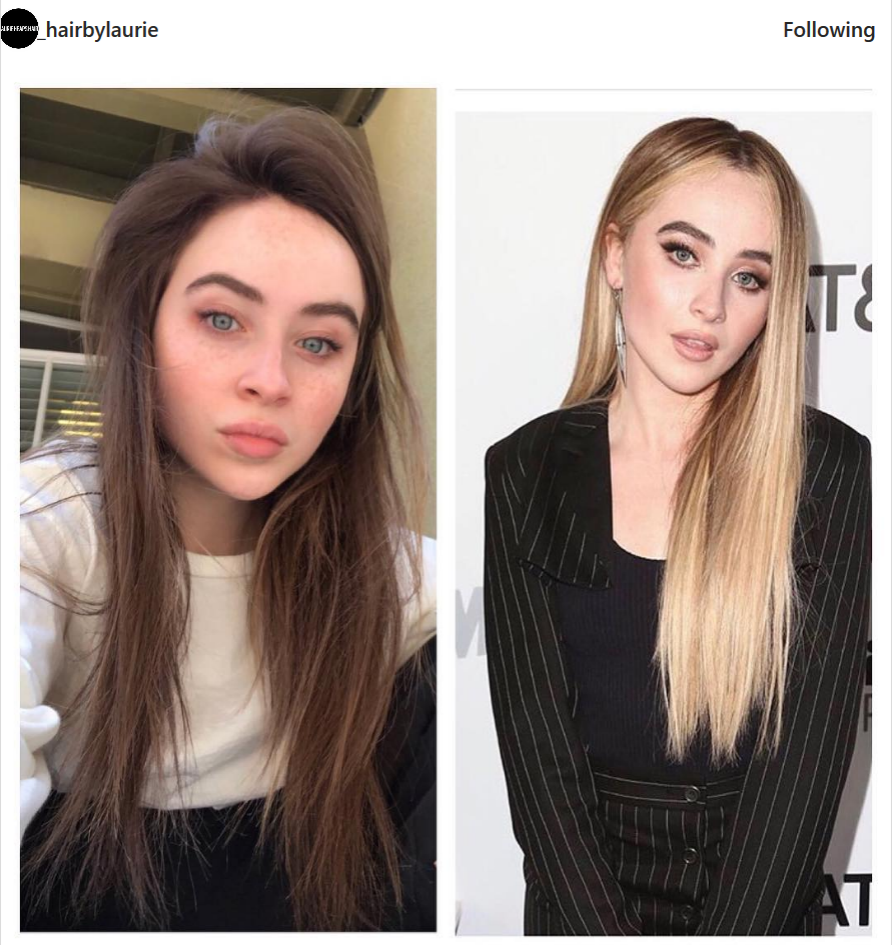 Back to blonde in less than two months, celebrity hairstylist Laurie Heaps took Sabrina Carpenter to a beautiful honey blonde after going dark for a movie role mid-April. "It took two sessions to lift her hair and bring it back to the blonde you see now. The first color session lasted about 5 hours and then she came back 10 days later," explains Laurie.
Going Brunette to Blonde – How to Lift without Damage
To start the process, Laurie applied Redken Flash Lift bleach with 3 different volumes of peroxide. One for the roots and mid shaft, the second one for the ends and finally the third for the fine pieces around the hairline. "I used Olaplex No. 1 in all of the formulas. This is key to protecting the integrity of the hair." Laurie then toned the roots with Redken Shades EQ.
The end color? A beautiful honey blonde. "Sabrina wanted to be blonde for Wango Tango where she debuted her new song," reveals Laurie. "This was the perfect color to take her back to being lighter again."
Going Brunette to Blonde – How to Care for Your Color
1. Switch to a Heat Activated Deep Conditioner
Deep conditioning the hair is vital after lifting so many levels. For even more protection, opt for a heat activated treatment instead of traditional masks. White Sands ER Fusion Emergency Reconstructive Treatment deeply replenishes tinsel strength and reduces breakage. Apply on freshly washed hair and comb through. Set under heat for 20 minutes for maximum results.
2. Avoid Brassy Hues with Purple Shampoo
BioSilk Color Therapy Cool Blonde Shampoo provides color protection to lightened and highlighted hair, helping to balance brassy tones, keeping blondes cooler and fresher than ever. Its violet tint neutralizes and eliminates unwanted yellow tones.
3. Find a Hair Oil Compatible with Blondes
It is important to find hair products that do not alter the appearance of your new color. White Sands Orchids Hair Oil will not taint blonde hair and is made without harsh chemicals or proteins. It restores moisture balance, while increasing softness and shine.