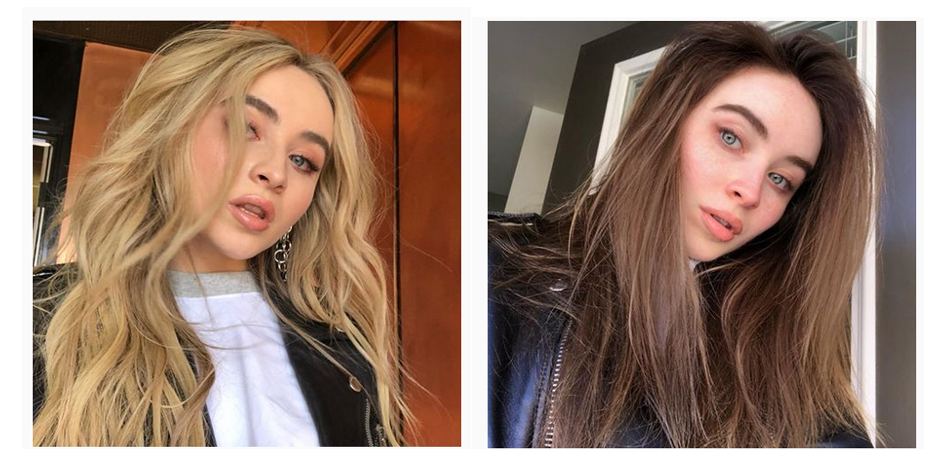 Actress and singer Sabrina Carpenter is now a beautiful brunette! Completed by celebrity stylist Laurie Heaps, the color change is for a new movie role.
"I spoke to the director and we both decided upon a shade," explains Laurie. "The script did not call for a certain brown. But, she just had to look like a girl who hasn't colored her hair ever and has been out in the sun a lot. For this, the ends would be lighter."
Going Blonde to Brunette – How to Avoid Green Hues
To start the process, Laurie applied Redken color to the roots first. "I used 7NB and 6NB plus Olaplex Step No.1 with a drop of yellow and red kicker."
The mid shaft was colored with just 7NB and yellow and red kicker to deposit and fill. "I did not cover all of the midsections though. I wove out blonde sections and put them in foils with Olaplex No.2. This is the base that avoids green."
Then, Laurie went back in and did the same as above, except the formula was 6N and clear at the roots, while a combination of 6N, 6G and Olaplex Step No.1 was put on the midsection. The color was completed by toning the whole head with 8C for 2 minutes.
Going Blonde to Brunette – How to Care for Your Color
Avoid Washes with a Brunette Friendly Dry Shampoo: I always advise my clients to wait as long as they can before the first wash, at least 48 hours. I like to recommend a dry shampoo that does not show up white on dark hair. BioSilk has a great option called BioSilk Silk Therapy Dry Clean Shampoo. This water-free spray cleans by absorbing excess oil. It adds volume so hair feels refreshed and it blends right in with any hair color flawlessly.
Pick a PH Smart Shampoo: When you wash for the first time, avoid hot water and use a gentle shampoo that won't strip the color. It is important to use a shampoo that has PH level between 4.5-5.5 to prevent fading. With a PH of 5.5, Vitabrid's Scalp Shampoo will provide nutrients to the scalp which is vital if color is applied to the roots. The Vitamin C based formula also effectively strengthens hair while hydrating.
Create an Oil Cocktail: I like to apply an oil cocktail to the ends of newly colored hair to keep it shiny and healthy. Made from the petals of 62 different varieties of orchid flowers, White Sands Orchids Oil restores hydration and shine to hair. Mix this with White Sands' split end mending crème called The Cure 24/7. This unique mixture will camouflage split ends and repair damaged hair fibers, making tresses stronger, smoother, and shinier.